Pine Ridge Homes prides itself in our turn-key home packages and with 5 homes in various stages of construction it's easy to sometimes lose sight of promoting homes with a smaller scope of work.    Basements, garages, porches, decks, HVAC systems, utility work….Pine Ridge offers it all.  But for some, maybe you're not interested in a larger scope of work.  Perhaps a home, some utilities, and a crawlspace is all you need.
Today we would like to introduce you to the St. Paul.  At 1,560 square feet it's not too large and not too small.  With three bedrooms, two full baths, and an office or fourth bedroom, it's use of space is exceptional.  The living room, kitchen and dining room offer the spaciousness and open feel that so many of today's buyers demand.   The St. Paul is large enough to accommodate a growing family, yet small enough for downsizers.  There are plenty of rooms to accommodate belongings, guests and private space without breaking the bank at real estate tax time; adding yet an another element of affordability.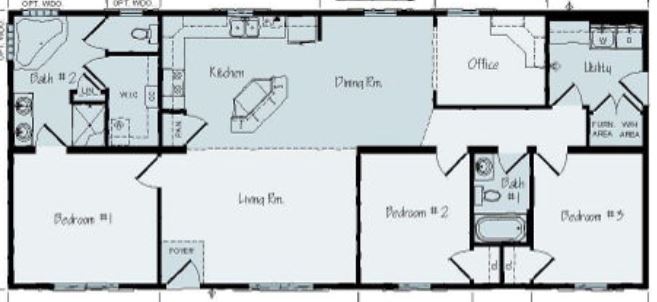 The St. Paul with an excavated poured wall crawlspace and utility work will start at $139,000.  That's a tremendous value considering the quality you get with a Pine Ridge Home.
Our homes come with a 6/12 roof pitch, architectural shingles, 2 x 6 exterior walls, 2 x 4 interior walls, 5/8 ceiling drywall, 1/2 inch drywall throughout the rest of the home, Kohler faucets, Anderson windows, Tyvek house wrap, 12/2 wiring, R-21 wall insulation, 2 x 10 floor joists, 3/4 floor decking……..ALL STANDARD!  There are many more quality oriented, standard construction features as well.  But you'll need to visit to see for yourself.  If we tried to list them all we would have a book instead of a blog!
Where else can you find a quality home package starting at $139,000 that includes this kind of quality?  We don't think you will.  Pine Ridge builds throughout the entire Central and Southern Illinois region for a reason.  Simply put, we are the best combination of quality and value in Southern Illinois.  Check out our website and testimonials to learn more about Pine Ridge Homes.
In the meantime, check out the St. Paul and see if it might be the home for you!